Hello,
Suppose the 12 individuals, whose names are shown in the following figure (Fig. 1), have each served as the President of a certain organization.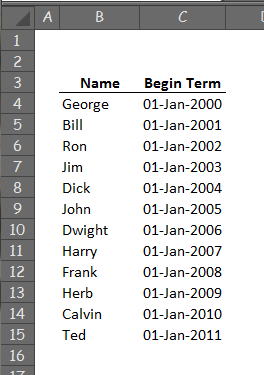 Suppose also that each president served for a term of one calendar year and the dates in column C indicate the date on which each respective person began their term.
Next, suppose that column F in Fig. 2 shows the dates of some arbitrary event involving a single individual whose name is shown in column E.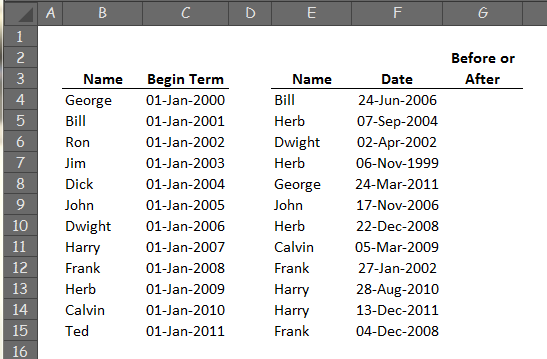 What formula in column G would determine whether the event for a particular person, occurred
Before
or
After
the first day of that person's term as President?
For example, the event for Bill occurred on 24-Jun-2006 (Fig. 3) which was
After
01-Jan-2001, the beginning of his term. In contrast, Herb's event on 07-Sep-2004 took place
Before
the first day of his term on 01-Jan-2009.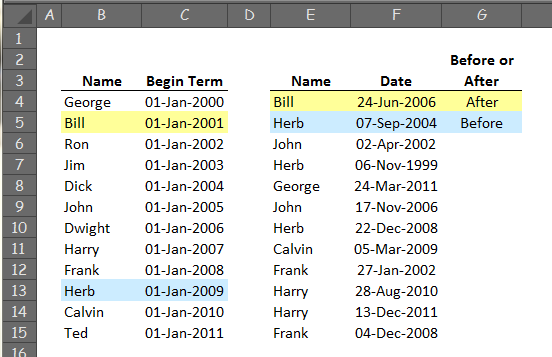 Another example, shown in Fig. 4, indicates that John had two events. The first, on 02-Apr-2002, took place
Before
his first day as President (01-Jan-2005), while the second, on 17-Nov-2006, took place
After
.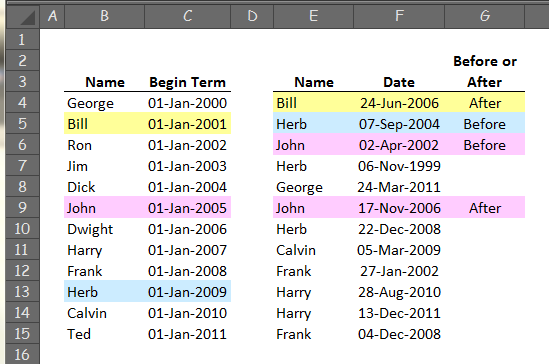 So, as stated above, my question is:
What formula in column G would give these
Before's
and
After's
automatically? I think there is a =VLOOKUP() in there somewhere but I am not sure how to put it together.
Thanks