I am new at Forms and am trying to show a Summary of Activity for Customer Accounts. Each Customer Account can have several 1-year contract years. For each Contract year, there is activity for a) Revenue Share; b) Payments Made; and c) Guarantees due
My relationships are set up with a Table for the Accounts (T_Verticals) with a one to many relationship to the contract years (T_ContractYears). For each Contract Year, there are one to many relationships to the 3 tables mentioned above.
See attached for Relationships screenshot.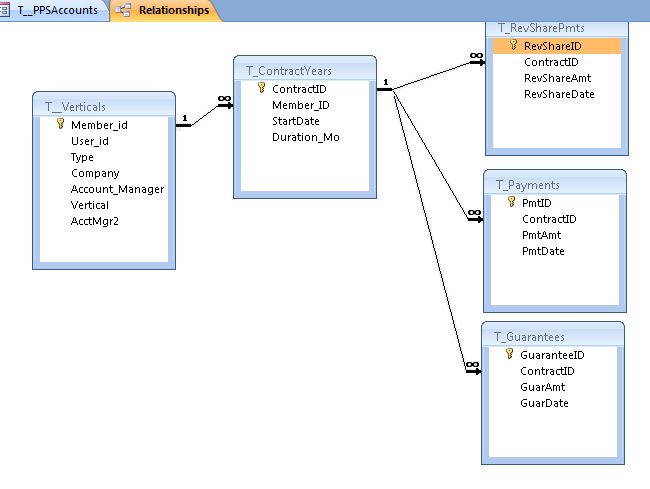 I've decided to setup a Form (T_Verticals) with a Subform (for the ContractYears) and additional subforms for the RevShares, Guarantees, and Payments.
Using the Form Wizard, I was able to create the three levels (Form, Subform, Sub-SubForm) with only one (RevShare) of the Sub-Subforms.
I tried copying the RevShare Sub(Sub)Form and doing the same for the 2nd of the the 3 Sub(Sub)Forms, but it is not working. Specifically, when I change the contract year, The RevShare changes correctly. However, the Guarantee records do not.
Any ideas why? Is it possible that this is disallowed?