Hello all. I have been trying to fix this issue pretty much all day.
I got a virtual 2008 RDS server (SVR-REMD1) on another 2008 HyperV server.
I got the RDWeb working pretty good, launches successfully, and all, but can't seem to get rid of the Certificate error. I only get the certificate warning when I try to launch the app, but after the initial "A website is trying to launch blah blah".
The error I am getting says certificate mismatch.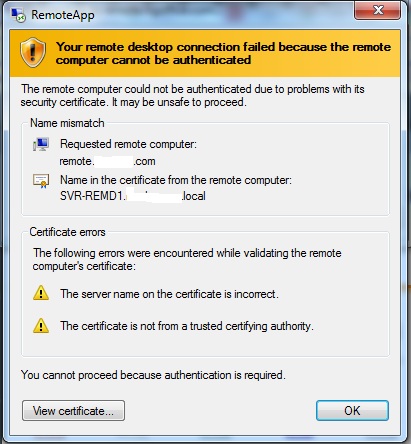 It is looking to connect to the remote.domain.com address, but it is pulling up the svr-Remd1 for some reason. I have looked all over the place how to change that, but I can't find it. In the RemoteApp Manager, in the RemoteApp Deployment Settings, in the Digital Signature tab, I have the remote.domain.com certificate selected. If I change it to the svr-Remd1 certificate it doesn't work to even login without errors.
Any idea where I can find out what certificate I set it to use when it points back to the server to open the programs?
Thanks.