Overview:
WCF Published to IIS Root on GoDaddy
SQL DB hosted by GoDaddy
Windows Phone 7 Emulator / Windows Phone with App Deployed to it
I have created a WCF Service that grabs data from a database and feeds a Windows Phone Application.
When I run the WCF on my local machine, then reference the WCF in the Windows Phone Local Emulator, I see the data in the application.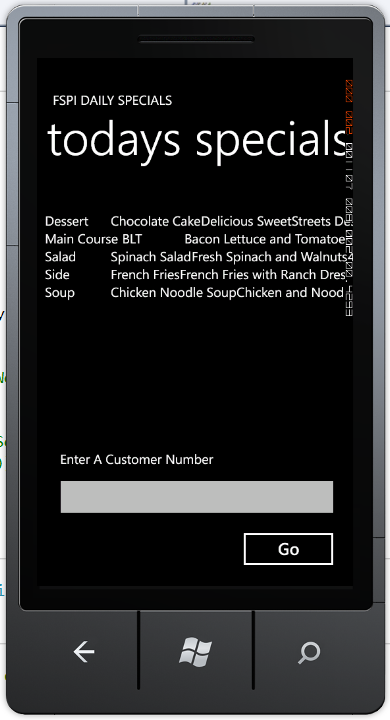 When I reference the WCF that is hosted on GoDaddys IIS, no data renders to the phone.
I am not sure what could be causing this?
There are no errors... just no data rendered in the app.
Same result when I deploy the Application to the Windows Phone.
Here are some code snippets and some screen shots to help:
Config entry for WCF
        <add name="DailySpecialsDB" 




        connectionString="Data Source=wp7pushdb.db.7966980.hostedresource.com; Initial Catalog=wp7pushdb; User ID=userid; Password=password;" 




        providerName="System.Data.SqlClient"/>