Hi there,
I am in desperate need of some assistance! So hope someone can be of service.
I have been given a laptop to fix.
The problem is, when booted, the machine posts absolutely fine. And then the screen goes black for about 5 minutes and appears to do nothing.
An error stating "The boot selection failed because a required device is inaccessible" then appears. Error code: 0xc000000f.
I have the drive out of the machine and plugged into my machine at the moment and have tried chkdsk etc, but the file system on the drive is coming up as "RAW", and chkdsk is not available for "RAW" drives. Brilliant..
When attempting to access the drive through Windows explorer, I get the standard, "This drive needs to be formatted before you can use it" message. And then this: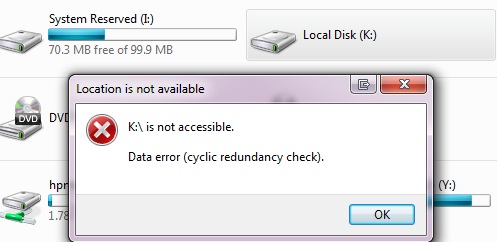 Having had a Google of the problem, it seems to happen for a number of reasons, of which, none of the resolutions have helped me.
Formatting the drive and re-installing at this time is not an option, but will be as a last resort.
I have tried 'Piriform - Recuva' with zero luck, as it says the file path for the drive does not exist. I have also tried 'Kernel for Windows Data Recovery', which took a while, but displayed everything on the drive. Would allow me to recover folders, but I would rather recover/fix the corrupt files(s) that are causing this issue!
I might add, I have absolutely no idea as to how the problem occurred. Apparently the daughter of the laptops owner was using it prior to the failure, and was only browsing the internet. The cursor apparently then went a bit funny, and not working correctly. The next time the laptop was turned on, it had this problem.
Any help with the above would be greatly appreciated.
Thanks,
Nick