Dear Experts,
I would like to add more ringtones to my Cisco 7940 IP Phones.
I have also the Cisco Call Manager Express 2811.
The ringtone file should follow the below specifications:
Create a PCM file for each customized ring tone (one ring per file).
The PCM files must comply with the following format guidelines.

• Raw PCM (no header)
• 8000 samples per second
• 8 bits per sample
• uLaw compression
• Maximum ring size 16080 samples
• Minimum ring size 240 samples
• Number of samples in the ring must be evenly divisible by 240
• Ring should start and end at the zero crossing
I have used
NCH WavePad Sound Editor
which creates RAW files with
the below settings: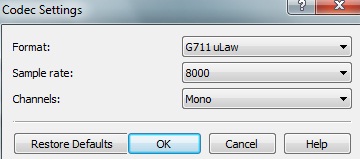 I have also found from a forum that 16080 samples (maximum ring size) are equal to 2.1sec of sound file.
I have send some ringtones with the above settings to our Cisco Technician and he informed me that the files are listed in the phones but when he tries to play them there is a "unavailiable" message..
Any help will be much appreciated
Best Regards,
mamelas