I need to make code, that there is JFrame on which there are three JComboBoxes to set the date, month and year that needs to be verified. When focus gets AWAY from ANY of the
three JComboBoxes the date set up should be validated.
I could only come up with detecting focus gained in the 'other' control, but in reality I would like to detect when focus gets AWAY from ANY of the 3 comboboxes used to select date. Because there are a lot of other controls in the actual frame this will be used on, that can get focus, and the set date needs to be checked. Not just one.
A good date is any date that's valid in the Gregorian calendar.
(February 29th 2007 would be a bad date, for instance.)
But what I wrote for checking the date doesn't seem to work either, just always generate exceptions, and this whole process appears to unreliable as it runs.
What am I doing wrong here?
Thanks.
I wonder why I cannot embed a code window into the Expert Exchange post any more...
That's why I attached the Java code.
Attached a screenshot and the Java source code. ( ComboBoxesDateVerification
.java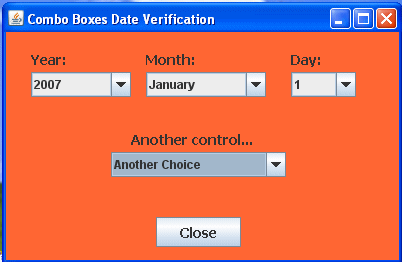 ComboBoxesDateVerification.java
)