I'm using VS 2008 and VB.net. I want to use Ajax Controls and Control extenders.
But the tutorial says I need to use the Task Menu, which apparently appears next to everyone else's control. BUT NOT MINE! Why not mine???
Below pic shows Task Menus really do exist! Why not in my IDE????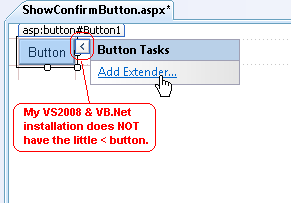 So, what is different about my VS2008-VB.net installation?
NONE of my controls have the Task Extender ....... arrrrrrgh!
HELP!!!!