hi all
i new in the company and there was some meeting and some solution for WAF( WEB APPLICATION FIREWALL) was made on Citrix Netscaler .
now i suggested, based on things i heard and learned , that the best-of-bread in WAP are
Imperva and Websense.
now i was asked by the CTO to make Comparison table between the 3 product, and i dont know where to begin...
i think that this kind of table is not really practicall to generate , at least one that can give you a real picture.
so i tried to search gartner reashe Studies that can prove my case, i know they have those charts called Magic Quadrant that show there findings about the best-of-bread product,
for example: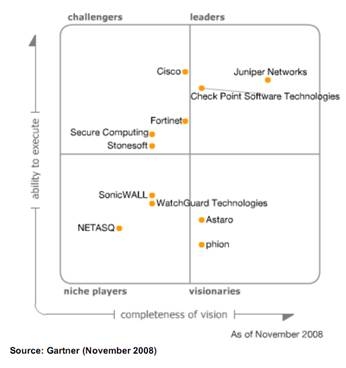 this chart is about firewall, but i google and read that they made simular research about web application firewalls (WAF), how ever i couldnt access in from the site as they want u to pay alot of $$$ for the complite reaseach
i dont need the complite research, only the Magic Quadrant graph, can someone tell me where i can find it?
or mabye as althenetive, some comperision table between those product as i was request by the CTO? (or tips how to make usfule one, it also be good that this comperision table will point that imperva and websense are better solution overall, to support my case when i stated that they are the "best-in-bread" products.
any help will be appriciated
thx in advannce