I dealt with this problem in the past and it appeared to be related to an update that adobe needed. I'm now back on this problem again only with a slightly different and more aggrevating situation.
In a previous database I use the following code to open up .pdf files;
Private Sub PackSlip_Click()

Dim strLink As String

If IsNull([FileName]) Then

MsgBox "No Certification was attached to this Purchase Order or no PO's on record."

Else
strLink = [FileName]

FollowHyperlink strLink

End If

End Sub
This code opens up the .pdf files without any problems. It does not give me the prompt telling the file is potentially dangerous, etc. (screenshot below).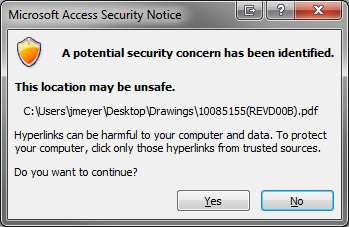 I'm now creating a new database and using a similar code to open up .pdf files and am getting the prompt. I've narrowed it down to the location of the file.
In my new database I'm going to
C:\Users\jmeyer\Desktop\Drawings
In my old database where I don't get the prompt I'm going to one of my network drives
V:\Scan Certs
So in other words something is causing it to give that prompt whenever I go to the C drive. Does anyone know what could be causing this? FWIW- I went into the trust center settings and checked that out to be sure I haven't done anything in there. I never set up and specific locations for V:\Scan Certs but did try to setup a trusted location to C:\Users\jmeyer\Desktop\Dr
awings which didn't do anything.
Oh and p.s., here is the code for the new database;
Private Sub txtAssemblySeq_AfterUpdate()
Dim objFSO As Object
Dim objFolder As Object
Dim objFile As Object
Dim strLink As String
Dim varApp As Variant


Set objFSO = CreateObject("Scripting.FileSystemObject")
Set objFolder = objFSO.GetFolder("C:\Users\jmeyer\Desktop\Drawings")

Me.Filter = "[jaJobNum] = " & "'" & Me.txtJobNum & "'" & " and " & "[jaAssemblySeq] = " & Me.txtAssemblySeq
Me.FilterOn = True

For Each objFile In objFolder.Files
If objFile.Name Like [jaDrawNum] & "(REV" & [jaRevisionNum] & ")" & "*" Then
'MsgBox "C:\Users\jmeyer\Desktop\Drawings" & "\" & objFile.Name
strLink = "V:\Scan Certs" & "\" & objFile.Name
FollowHyperlink strLink
End If
Next
Set objFolder = Nothing
Set objFile = Nothing
Set objFSO = Nothing
End Sub
Thanks for the input!