I have a Vsphere 4.1 server that currently hosts 2 VM's. The hard drives are 10-15k rpm Raid-10 fashion and I have about 600gb of total storage on one datastore.
Currently the datastore has been running low and I'm kind of curious as to why because I have VM-1 provisioned with 2 drives (50GB and 225GB respectively) and VM-2 provisioned with 1 drive (150GB)
Total its about 425GB of provisioned space. I am however concerened that the datastore only shows 4gb of available now.
Under further scruitiny, I looked at the datastore folders and noticed some redundancy to the VMDK files for each VM.
What I think happened was that I replicated from a physical to this Vsphere server and it did a few passes to keep the 2 boxes current until I was able to power down the phsical and power up the VM's.
Attached are the screenshots of the VMDK files for each VM below: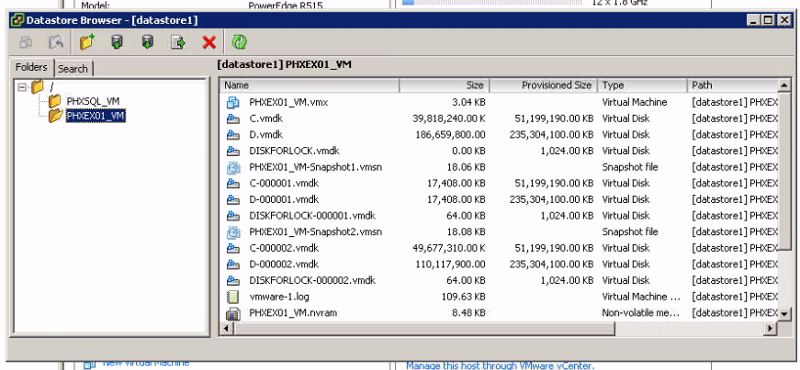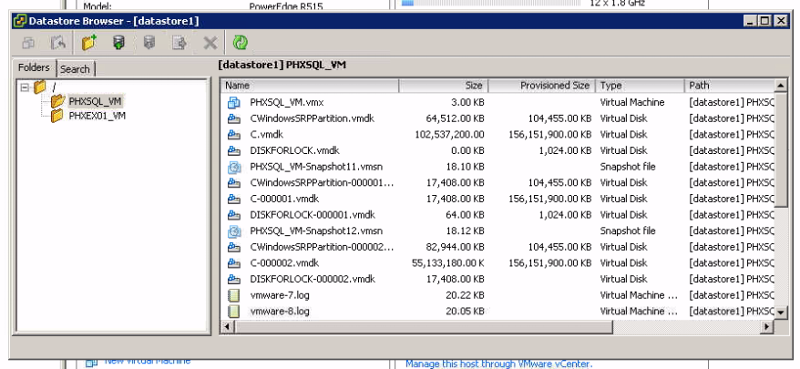 My question is, is it possible to delete one of the redundant files or are they both necessary for the VM's to boot properly? For instance there is a C.vmdk and D.vmdk for the phxex01 server. There is also a C-000002.vmdk and a D-000002.vmdk.
How can I tell which ones are active, and or is there a way to combine the two safely?
Thanks.