When shutting down my PC (Windows 7 64Bit Ultimate) I get "1 program still needs to close" and I have to click force shut down to turn off my PC. There is no waiting for it to shut down, 12 hours later it will still be waiting.
It is the windows sidebar (Gadgets) that is causing the issue and while I know exactly which Gadget it is that causes the issue (I can close it and the sidebar won't hold up the shut down) its not an option for me to live without the gadget.
Here is a screenshot of what happens: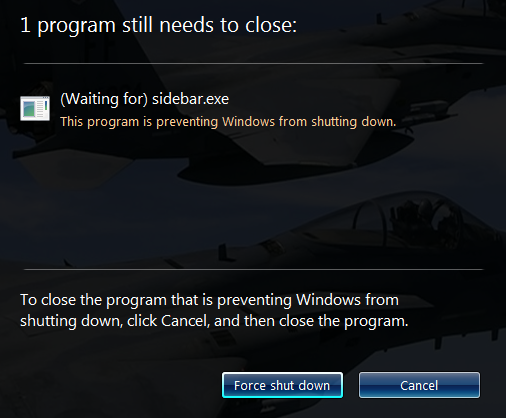 I have tried without success so far to get windows to automatically force it to shut down, for example follow instruction here:
http://techdows.com/2010/07/how-to-force-windows-7-for-a-faster-shutdown.html
Changed the "WaitToKillAppTimeout" which you would think would be exactly the reg key to resolve my dilemma but it is not.
So my question:
- Is there a local Group Policy or Registry Key to make Windows Force Close any remaining applications after a certain amount of time?
- Is there anyway to have the windows shut down function run a command first to kill the process before shut down?
- Is there any other method that may resolve my problem without resorting to running a "Shutdown my PC" icon on the desktop or manually closing the sidebar first?