i can not run any reports on VS 2010 on x64 machines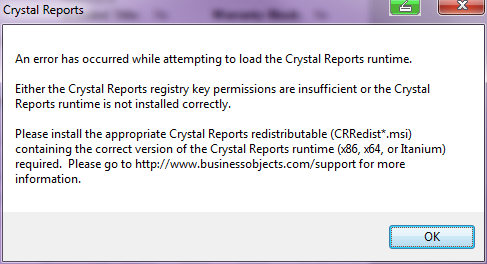 After that, I get a normal crash error:
To prevent possible data loss before loading the designer, the following errors must be resolved:
1 Error
Why am I seeing this page?
An error has occurred while attempting to load the Crystal Reports runtime. Either the Crystal Reports registry key permissions are insufficient or the Crystal Reports runtime is not installed correctly. Please install the appropriate Crystal Reports redistributable (CRRedist*.msi) containing the correct version of the Crystal Reports runtime (x86, x64, or Itanium) required. Please go to
http://www.businessobjects.com/support
for more information.
Instances of this error (1)
1. Show Call Stack
at CrystalDecisions.CrystalRe
ports.Engi
ne.ReportD
ocument.Ch
eckForCrys
talReports
Runtime()
at CrystalDecisions.CrystalRe
ports.Engi
ne.ReportD
ocument..c
ctor()
Help with this error
Could not find an associated help topic for this error. Check Windows Forms Design-Time error list
Forum posts about this error
Search the MSDN Forums for posts related to this error