All,
Recently, my "special folders" in Outlook (folders like Drafts, Tasks, and Junk) have moved under the "Deleted Items" folder. (See the screenshot below).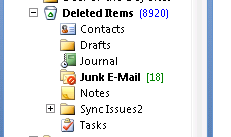 I have tried to move these back to the right level, but Outlook won't let me do that (see screenshot below).

Can someone help me understand how these may have been moved to their current location and then help me figure out how to move them back to the correct location.
Thanks.