I'm having an issue with exchange server 2003. I windows server 2003 running as active directory only, and I have exchange server 2003 also running windows 2003. 2 servers both windows 2003 with one being AD and the other being exchange. the issue i'm having is that none of my users (unless your an admin) can access exchange via OWA or activesync. If they log onto the domain from their PC and open outlook it works fine, but if they try use OWA or Activesync it fails. I have created the additional virtual for activesync and i even reinstalled my IIS trying to fix this. Attached is 2 images that shows what may be causing the problem. image 1 shows when trying to connect via OWA using my FQDN i get a box prompting for a login. This is correct. If an admin logs in then it opens fine, but if a regular user logs it fails and then presents you with a authentication box pointing to my AD and not the exchange server. This happens on my local network. On a different network it just gives access denied. Maybe this is causing the issue. can anyone give any advise about this. Also I do have an SSL certificate but not using it at the moment while figuring this out.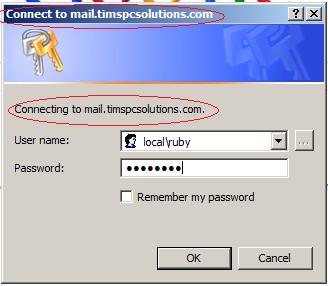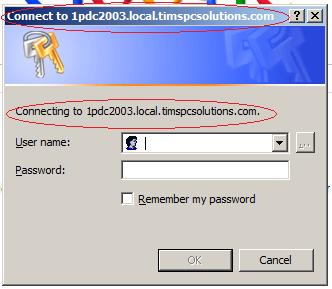 This is the error I recieved while testing a regular account with
www.testexchangeconnectivity.com
ExRCA is testing Exchange ActiveSync.
The Exchange ActiveSync test failed.
Test Steps
Attempting to resolve the host name mail.timspcsolutions.com in DNS.
The host name resolved successfully.
Additional Details
IP addresses returned: 99.23.6.46
Testing TCP port 443 on host mail.timspcsolutions.com to ensure it's listening and open.
The port was opened successfully.
Testing the SSL certificate to make sure it's valid.
The certificate passed all validation requirements.
Test Steps
ExRCA is attempting to obtain the SSL certificate from remote server mail.timspcsolutions.com on port 443.
ExRCA successfully obtained the remote SSL certificate.
Additional Details
Remote Certificate Subject: CN=mail.timspcsolutions.co
m, OU=Domain Control Validated, O=mail.timspcsolutions.com
, Issuer: SERIALNUMBER=07969287, CN=Go Daddy Secure Certification Authority, OU=
http://certificates.godaddy.com/repository
, O="GoDaddy.com, Inc.", L=Scottsdale, S=Arizona, C=US.
Validating the certificate name.
The certificate name was validated successfully.
Additional Details
Host name mail.timspcsolutions.com was found in the Certificate Subject Common name.
Testing the certificate date to confirm the certificate is valid.
Date validation passed. The certificate hasn't expired.
Additional Details
The certificate is valid. NotBefore = 3/20/2012 4:06:11 AM, NotAfter = 3/20/2013 4:06:11 AM
Checking the IIS configuration for client certificate authentication.
Client certificate authentication wasn't detected.
Additional Details
Accept/Require Client Certificates isn't configured.
Testing HTTP Authentication Methods for URL
https://mail.timspcsolutions.com/Microsoft-Server-ActiveSync/
.
The HTTP authentication methods are correct.
Additional Details
ExRCA found all expected authentication methods and no disallowed methods. Methods found: Basic
An ActiveSync session is being attempted with the server.
Errors were encountered while testing the Exchange ActiveSync session.
Test Steps
Attempting to send the OPTIONS command to the server.
The OPTIONS response was successfully received and is valid.
Additional Details
Headers received: Pragma: no-cache
Public: OPTIONS, POST
Allow: OPTIONS, POST
MS-Server-ActiveSync: 6.5.7638.1
MS-ASProtocolVersions: 1.0,2.0,2.1,2.5
MS-ASProtocolCommands: Sync,SendMail,SmartForward
,SmartRepl
y,GetAttac
hment,GetH
ierarchy,C
reateColle
ction,Dele
teCollecti
on,MoveCol
lection,Fo
lderSync,F
olderCreat
e,FolderDe
lete,Folde
rUpdate,Mo
veItems,Ge
tItemEstim
ate,Meetin
gResponse,
ResolveRec
ipients,Va
lidateCert
,Provision
,Search,No
tify,Ping
Content-Length: 0
Date: Fri, 30 Mar 2012 03:35:39 GMT
Server: Microsoft-IIS/6.0
X-Powered-By: ASP.NET
Attempting the FolderSync command on the Exchange ActiveSync session.
The test of the FolderSync command failed.
Tell me more about this issue and how to resolve it
Additional Details
Exchange ActiveSync returned an HTTP 500 response.
The error I get on a mobile device is:
Checking Certificate...Checking activesynce without SSL
Server is Microsoft - IIS6.0
Activesync was found
Trying activesync protocal 25
Activesync provisioning returns
HTTP:200
Activesync provisioning success
The following policies have been requested:
Refreshing AS folders
Error refreshing folders
Trying activesync protocol 2.5
Activesync provisioning returns
HTTP:400
Error provisioning Activesync: Policy status is 0
Thanks for any advice in advance.