Experts,
I am running into an issue that has cost some significant time - your help is appreciated. We're currently running an SSTP VPN connection hosted on a 2008 R2 RRAS server. A few weeks ago, at random, DNS lookups stopped working for those connected to the VPN (giving the user the impression that connecting to the VPN completely disables their network connection).
Here's the facts:
1. Users can connect to the VPN fine; once they do, they're able to ping any device on the protected network.
2. ANY DNS lookup fails when they are connected to the VPN.
3. Using NSLookup to test DNS while connected to the VPN shows their existing (public) DNS server works. Manually changing the DNS setting to a local DNS server on the protected network also works.
4. Broadcast name resolution is enabled on the RRAS server: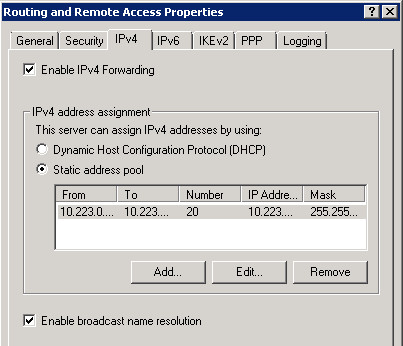 5. Wireshark captures from the client while connected show the client attempting to broadcast for name resolution. Note: the subnet I am assigning for the SSTP VPN is 10.223.0.50-69. This client has the IP address 10.223.0.53 on the SSTP VPN, 10.223.99.100 on the LAN:

I'm not too sure where to go from here. Thanks so much for your help!