Hi Everyone,
I've got a few questions about configuring OWA in Exchange 2010. Hope to get some good advice which will help me in the right direction.
I'm setting up a new domain on a SBS2011 machine, freshly installed. I've configured mail flow in Exchange 2010 allready, and now I want to configure Outlook Web App. Poeple must be able to access it from the internet trough a https address. I'll get a thrusted certificate later, as I presume that OWA can work without it also. Is that correct?
Here is what I did so far;
- I configured DNS both on the SBS2011 and the ISP, to point to the right server in my company. I also forwarded port 443 on my firewall to the SBS2011 server.
- In Exchange I configured the Internal and External URL to be the same. https://webmail.mydomain.com/owa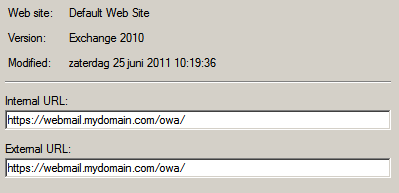 When I did this, Exchange pops up a message that I have to do the same for the EPC virtual directory.....

So thats what I did....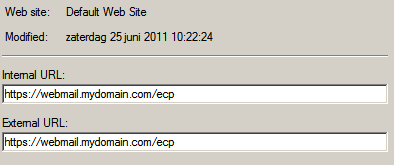 The questions I have are as follows;
1. When I try to access https://webmail.mydomain.com/owa from the internet. I get the following message in my browser..... How can I fix this?

2. Am I on the right track here with configuring OWA? Or do I have to configure other things in Exchange in order to get it to work properly (besides installing a certificate)?
Thanks in advance!