Hello:
I have created a new web site for a client and I would like to change the name servers (DNS Servers) from CompanyA.net to CompanyB.net. I have all of my web site files on CompanyB.net The problem is that 1 employee uses the Web interface to access his email; hence, all of his company email is in the cloud.
I would like to transfer his email over by using outlook 2010. Please see a previous experts question for a background of my plan.
http://www.experts-exchange.com/Software/Server_Software/Web_Servers/Q_27647745.html
Basically I would like to pull the emails with IMAP, in Outlook, to a laptop and then export the .pst file.
I have downloaded the files to a laptop and I have exported the data-file to a backup.pst file(it is 466 MB large). I have created a new outlook profile on the computer, with the new IMAP settings; but, i have not changed the DNS servers yet. Hence the new Outlook profile will not be able to connect to CompanyB.net's imap server settings until several hours. I did not delete the other profile, Outlook currently prompts you which profile to use.
However, I cannot open outlook and consequently import the backup.pst file to the new Outlook profile that I have created because the new profile is asking me for a username and password. Please see the picture.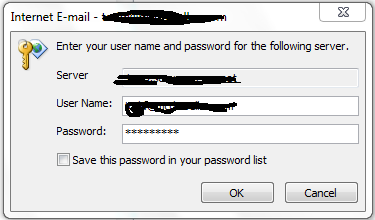 My question are:
1. Should I just wait to import the .pst file to the new Outlook profile until the DNS servers have been converted?
a. if so what is teh proper way to inmport the backup.pst file inot the new outlook profile?
2. How can I import the .pst file into the new Outlook profile before the DNS servers have been changed?