I am trying to pass some data between a ASPX page and ASP page.
Bit of background data; I am reasonably proficient in ASP and HTML development unfortunately I needed to use ASP.NET to retrieve a client HostName as part of an Agreement page, as proof as where Terms & Conditions where agreed to. This is then to be passed over an ASP page which emails the details to me.
However I simply cannot get the ASP page to use the request.form() function as it returns a null value. So without trying to learn ASP.NET I am wondering if there is a way to pass this data across?
Here you can see the form code and taged in the <asp> is the .net label which shows the hostname (when made visible)
 <div align="center">




	<form method="post" action="agreed.asp" name="mltc">




                    <label for="name">Name</label>




                    <input type="text" name="user_name" size="50">




                    <div id="termsframe">




                                <iframe  style="WIDTH: 600px; HEIGHT: 385px" name="shares2" src="medialibrary_termsconditions.html" frameborder="1" width="400" height="400" scrolling="yes"></iframe>




	</div>




                   <br>




        <asp:Label ID="Label1" name="Label1" runat="server" Text="Label" Visible="false"></asp:Label>




                    I Agree




                    <input type="checkbox" name="agree" onclick="enable(this);">




                    <input type="submit" id="submit" name="submit" disabled="disabled" value="SUBMIT">




                    </form>	




		</div>



Here is the asp code I use to retrieve the data and you can see how I would have expected it to retrieve the Label1 based on its ID.
strComputerName=request.form("Label1")




 username=request.form("user_name")




 date_time=now



Obviously this is not the case and the email that is sends proves this as you should hopefully see from the image embedded there is no From: field data.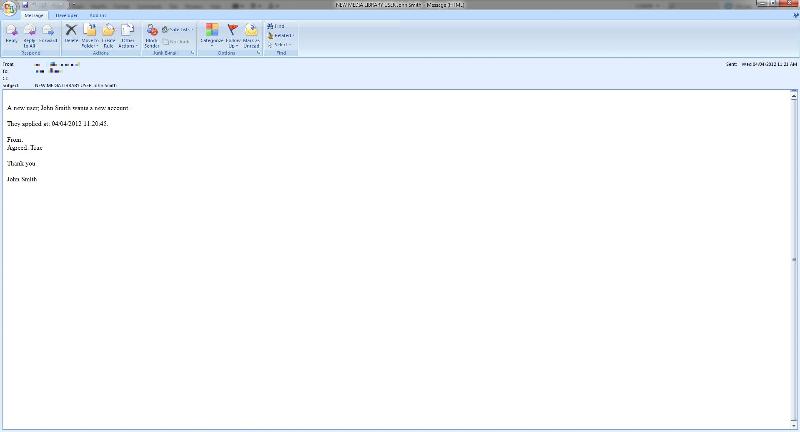 Anyone who knows the easiest way to fix this with ASP will be much appreciated.