I am trying to highlight a row in Access 2007. I have a checkbox in the row, if the checkbox is checked, then I want the row highlighted. I saw a post a few months back by Capricorn1 that clearly shows how to do this using conditional formatting. But for some reason it isn't working. Here is how my report and conditional formatting is setup.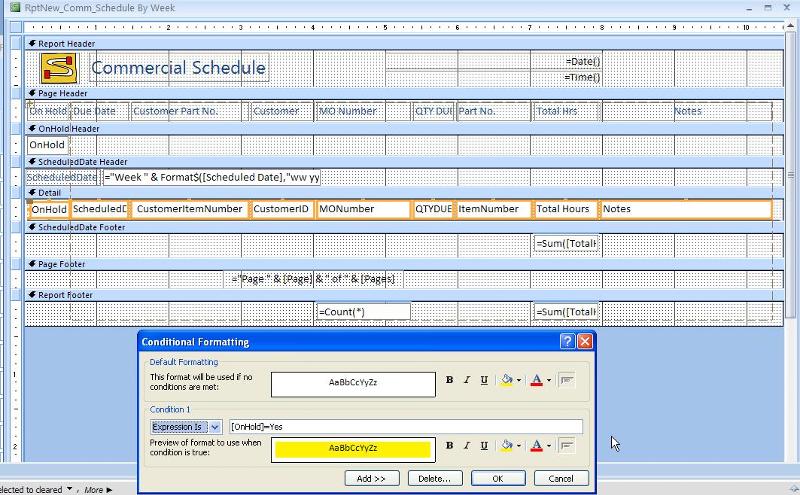 I was reading Microsoft's help file on conditional formatting and found the following:
4.On the All tab of the property sheet, if the first two properties (Name and Control Source) are identical, or if the Name property matches another field name in the form's or report's underlying record source, edit the Name property so that it is unique. A common practice is to add a short prefix to the name. For example, if the control is a text box, you might add the prefix "txt" to its Name property, as in "txtQuantity."
This seems strange to me, by default the name and control are the same on all my fields. SO I added a space between words to make the name and control different. So the control for the checkbox field is OnHold and the name is On Hold. But it still doesn't work. And now one of my fields "TotalHours" now opens a "Enter Parameter Value" window, even though I didn't change the control only the name, the control is Total Hours and the name is TotalHours. I hit enter, leaving the parameter blank and the report runs and the field populates, but I obviously do not want this window opening every time.
I have the checkbox formatted yes/no, though I have also tried in the conditional formatting [OnHold]=1, [OnHold]=ON, [OnHold]="Yes", none of these have worked. If I only click on the OnHold control and change the condition to Field Value is equal to Yes, then it does highlight that one field. But I cannot get the entire row to highlight, or get anything to highlight by using "Expression is" as a condition.
Any help would be greatly appreciated.