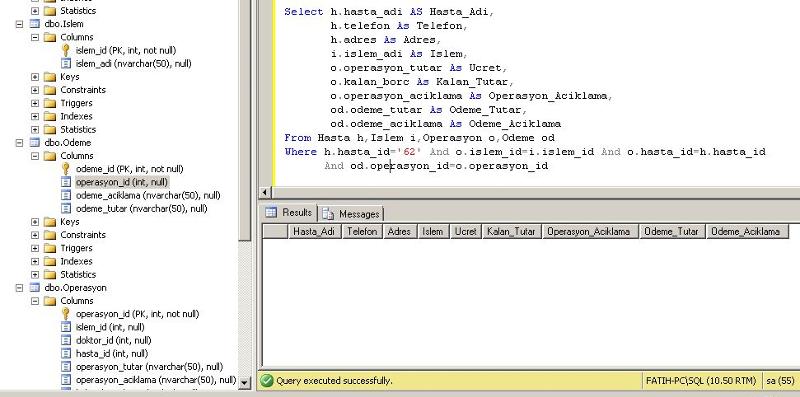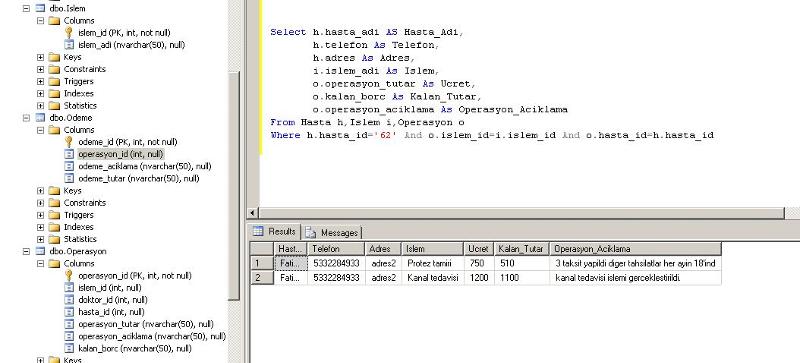 In 1.jpg you can see I have 3 tables
hasta,(hasta_id,hasta_adi,
telefon,ad
res)
operasyon,(operasyon_id,is
lem_id,dok
tor_id,has
ta_id,oper
asyon_tuta
r,operasyo
n_aciklama
,kalan_bor
c)
islem,(islem_id,islem_adi)
The problem is when i add 4th table which is called Odeme
Odeme(odeme_id,operasyon_i
d,odeme_ac
iklama,ode
me_tutar)
I dont get any results somehow but i need information from the 4th table as well but i can not get somehow !!!
what i am try to do is display selected patient's information in datagrid.
hasta=patient
operasyon=operations
islem=list of available operations
odeme=payments
I save patients in patients table and if i can choose a patient and assing him/her operation from the list of available operations
then i can also enter payment to the specific operation
Pls help...