Hello,
We have recently made a P2V to our SBS 2011 machine to vmware esxi 5.
Before we made the move, we had external hard drive attached to the SBS, and had scheduled windows backup running to backup everything to this hard drive.
Now, since the P2V, we are trying to make the backup with Veeam backup.
We have created another virtual machine, (clean install of server 2008 r2), installed Veeam on it, and tried to run the backup.
After about an hour of the job running, it aborted with error:
Client error: The device is not ready Failed to write data to the file [E:\Backup\Backup Job 1\Backup Job 12012-04-11T145554.vbk].
No matter how many times running, we always get the same error, although it stops at different time always. For example this time it stopped after transferring about 60gb, and the time before that, after transferring about 30gb.
we've checked the Windows Log, and saw that we're getting a lot of
"an error was detected on device \Device\Harddisk1\DR1 during a paging operation." - DR1 is the external driver.
and I mean a lot, almost third of the system log was filled with it, and it was all logged at the same second (although, not the same time when Veeam failed).
See screenshot: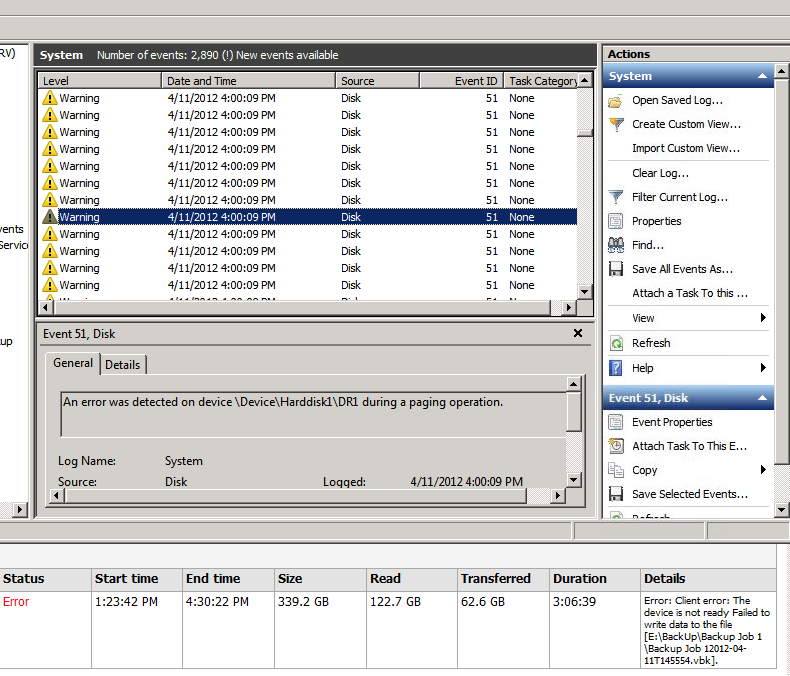 We have tried:
Replacing the external drive with a new one.
Creating a new virtual machine with Veeam.
We have tried searching in Google and didn't found anything . Any advice would be appreciated!