I got this to work in SharePoint 2007 but it's not working in SP 2010.
I want the right indicator to appear based on the status but it's not rendering.
A while ago, someone sent me the calculated column code.
Here's what's rendering.

Here's an IDEA of if in SP 2007.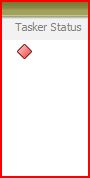 Here's the calculated formula I'm using in SP 2010.
=IF(OR([Tasker Status]="OPEN",[Tasker Status]=""),"<DIV><IMG title='OPEN' border='0' alt='OPEN' src='/images1/Active.gif' /></DIV>",IF([Tasker Status]="EXTENDED","<DIV><IMG title='EXTENDED' border='0' alt='EXTENDED' src='images1/amber.gif' /></DIV>",IF([Tasker Status]="CLOSED","<DIV><IMG title='CLOSED' border='0' alt='CLOSED' src='/images1/red.gif' /><DIV>")))