Hi Experts,
      First off, I am brand new to Oracle so i am guessing I did soemthing I wasn't supposed to!  Oooops...  
      So I was going to create a table space using SQL*Plus using the same name as one of my existing tablespaces.  I didn't want to delete the old one so I was going to rename the file (MyTableSpace.dbf) using Windows Explorer.  It wouldn't let me due to "file is being used by another application".  So I figured that the server must still be accessing it so smart me I stopped the services OracleServiceXE, then changed the name of the file to MyTableSpace_Backup.dbf.  Then i restarted the service and tried to log in connect using both SQL*Plus and Oracle SQL Developer and I get the below errors:

and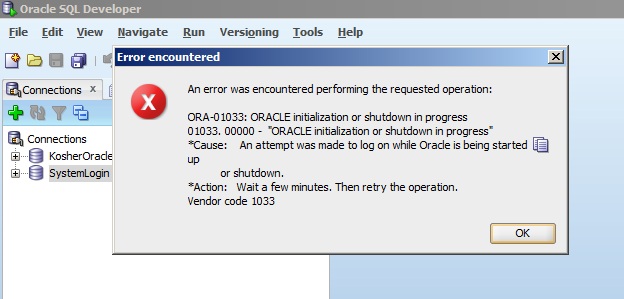 I tried naming the file back to the original name and restarting my PC but I am still getting the error...  How do I fix this?  I tried looking online, but apperantly a lot of things can cause this.  I tried 3-4 different things I found but none of them are a fix...
Thanks!