Hi,
I am looking into deploying our printers via Group Policy. The method in which I am going to deploy them is on a per printer and per printer basis, not associating it to a computer name.
Due to the nature of our business, our users move between sites regularly but are not setup on roaming profiles. Rather than adding all printers on a site basis via GP I am hoping to add a user to a single printer assiciated group in AD, which is linked to a GP. So, if a user uses 4 printers across 3 sites, they're not forced to install the sites' 15 printers.
Q1: Am I going about this in the right way?
Q2: Can you think of a more fitting method
Q3: What are the minimum requirements to do this?
My current situation is:
DC = MS 2003 (Schema 47 I believe - we have 2 DC's - 2x 2003 and 1x2008R2)
Print Server: MS 2008 R2
My AD structure is as Screenhunter-01 attached.
 You will see the site location OU (i.e. WQR) and then an OU which represents the single printer (i.e. 102141_CanoniRAC2025). I then hope to link this to a deployed printer via GP. I'm a little unsure of exactly how the linking work however so it would be great to have some input on that if possible please. I'll be watching this post like a hwak so I'll be able to add more detail as requested.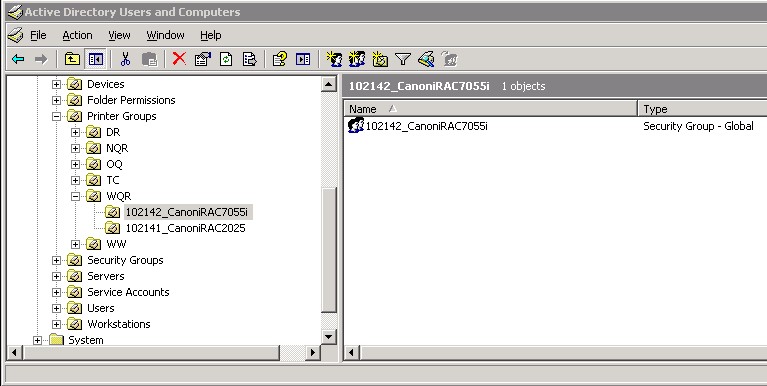 Please let me know what you think.
Skijuice