I need a graph similar to this: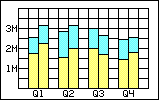 Obviously there are eight columns, two for each quarter.  Each of the two columns for each quarter represents two years (2011 and 2012).  Each column represents two values, Income (yellow) and Expense (Cyan)
In the Chart Expert, I select 'For each record' to be year and 'Show Values' of Income and Expense.
I can get a single set of two columns (any particular quarter), but how do I get all quarters to show up as in the example graph?
My query currently returns Year, Value Type (I = income, E = expense) and the values for each month which I calculate to give me the values per quarter.  So, I might have two records that return values such as this:
Year   Type   January   February   March     April




2011     I    600000    650000     500000    450000




2012     I    800000	900000     550000    600000




2011     E    800000	900000     900000    1000000




2012     E    900000	1000000    14000000  1000000



(Only showing to April 'cause I got tired of typing, but you get the idea)
I can modify the query if needed.
Hopefully I got my needs across.  :)
TIA