Hi,
I installed SCCM 2007 on Windows 2008 R2 and all is working fine.
Now I try to enable OS deploying. Therefore I need to configure WDS.
I installed the Micrososft deployment toolkit:
http://technet.microsoft.com/en-us/solutionaccelerators/dd407791.aspx
But don't have the option to configure it (I didn't configure but can only "remove wds pxe filter", whereas I expect the option to edit it):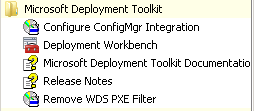 Please advise.
J.