We have a single https port open coming into the Sharepoint server. We would like to create individual web services using unique internal ports but redirect all outbound traffic through the same secure 443 port to save on having to open multiple encrypted ports all the while having all custom sites sit on their own webservice/appPool.
Is something like this even remotely possible?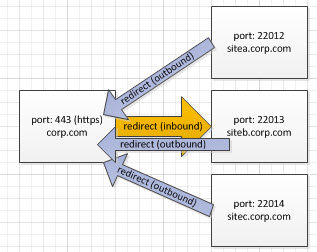 Use Case: User enters in siteb.corp.com, traffic is redirected to port 443 and then to siteb.corp.com which resides on port 22013. Reply page goes back through port 443 to the cloud.
Thoughts? Thanks.