I've been gradually cleaning up a computer, and short of finishing Windows Updates, almost have it ready to give back to the client, however, when it starts up there is an error that appears.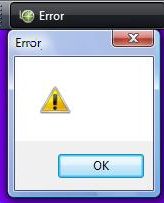 - its a small square box and it has the warning symbol and is entitled 'Error'. Nothing else in the box except for an OK button. There is a strange 'Acer-like' icon in the taskbar (seen above error), but I haven't been able to identify the icon or eliminate the error.
I've looked for the icon in Programs and Features and its not there.
The computer is an Acer Aspire desktop running Vista Home Basic, that I've just installed SP1 & 2 on. It came to us with other issues, but we have removed copious amounts of malicious software off it also.
I've gone into Msconfig > Startup. There are 4 items there and they are all unitcked.
Msconfig > Services: If I Hide All Microsoft services, the following are ticked:
Avast Antivirus (installed well after spotting the error the first time)
Google Software Updater
Google Update Service (gpupdate)
Google Update Service (gpupdatem)
LightscribeService Direct Disc Labelling Service
SAS Core Service (This is SuperAntiSpyware and was installed well after spotting the error the first time)
I don't think any of these are causing the issue
The Startup folder on the Start Menu is empty
Error doesn't come up in Safe Mode. What else should I be looking for? Anyone recognise the icon?