Hi,
I have 3 disks inside Ubuntu that I am trying to share an entire disk via NFS for MacOS X Clients.
I have installed nfs-kernel-server and am trying to setup NFS Exports via Webmin
The problem is I create an export
Choose:
NFS Version 4
Directory to export: /export/sdd1
Active Yes
Export to: IPv4 Network: 192.168.1.0 / 255.255.255.0
Sec Level: None
Read Only: No
Disable subtree checking: Yes
Immediately Sync all writes: default
trust remote users: everyone except root
treat untrusted users as: default
clients must be on secure port: no
hide the filesystem?: no
I hit save and apply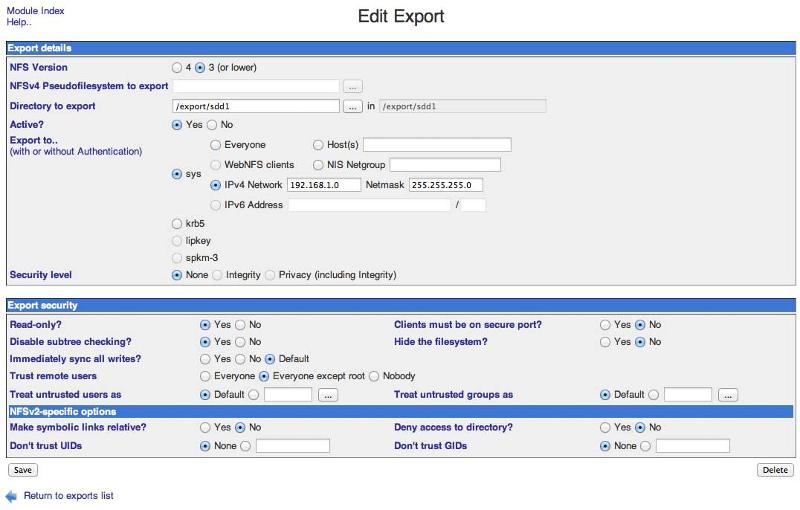 (You will see above that it is set as 3 even though I have chosen 4 so many times)
When I head back to the export, NFS Version is now set to 3. I have rebooted the server with no joy.
Then what I am doing at the MacOS X End (Mountain Lion 10.8.1 by the way)
Terminal:
showmount -e 192.168.1.82
sudo mkdir /ubuntu
sudo mount -t nfs 192.168.1.82:/export/sdd1 /ubuntu
I then cd /ubuntu and it returns:
-bash: cd: /ubuntu: Permission denied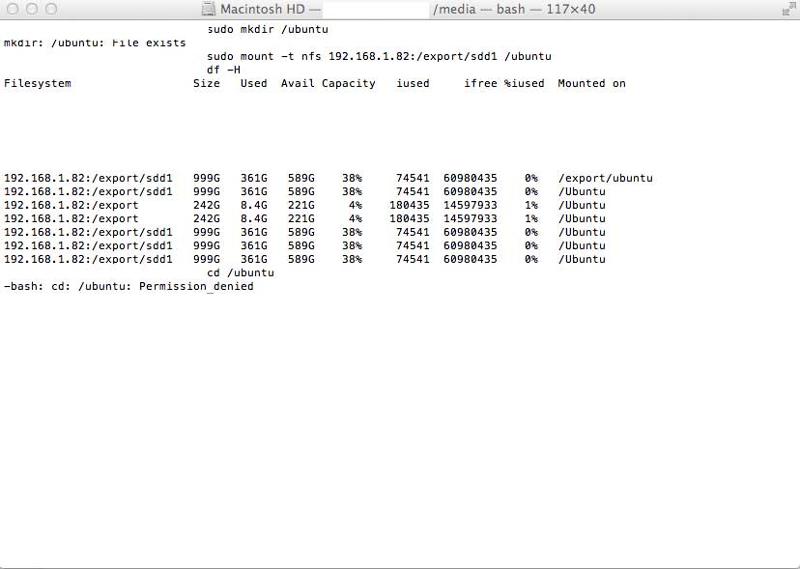 I then head to the finder, find the 192.168.1.82 in the shared and see the sdd1 folder with a red icon which clearly means no access.
The folder is blank.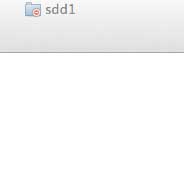 I have attached as many screenshots as possible.
Cheers