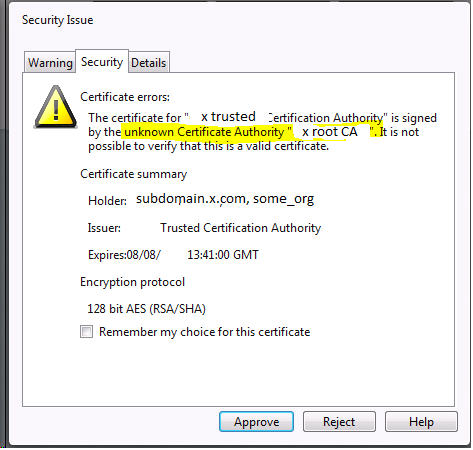 i have a couple of related questions -
the situation: i have a link on my webserver accessible only through https
however on trying to connect i get the error (attached)
* is it correct that this is something i can ignore (users can always just add an exception on the browser and enter the page as normal)?
* are there situations where somebody cannot add an exception (e.g. this feature can be blocked by admin or organisation etc)
* is the only way to avoid this error to get and install on the server a certficifate from a trusted authority that is already distributed with the browser(or allow access with http).
* does connecting to my server through https like this improve security even though the server cannot be verified? ( my understanding is https does 2 things, (a) stop eavesdropping on data exchange (b) verify you are talking to legitimate server))
i know it looks like a lot of text but its quick and easy questions for somebody who knows this im sure.
cheers!