Hi Experts,
I have installed Windows 2008 R2 on a new HP Proliant server with a plan to transition a 2003 AD domain to the new server. So far I have carried out the following:
2003 machine
- I have carried out the adprep32 /forestprep; adprep32 /domainprep and adprep32 /domainprep /gpprep. The ip address of this DC is 10.71.104.2, default gateway is 10.71.104.1 and preferred DNS is 10.7.25.131.
The domain is called RMNETNT
NEW HP Machine
- I have installed Windows 2008R2 O/S and given this server a static IP address of 10.71.104.3. Since I want to promote this server to a DC I have given it a default gateway of 10.71.104.2 and a preferrred DNS entry of 10.71.104.2 - ie the 2003 server.
The new server, at this point, is still part of WORKGROUP. I ran dcpromo and selected options as follows: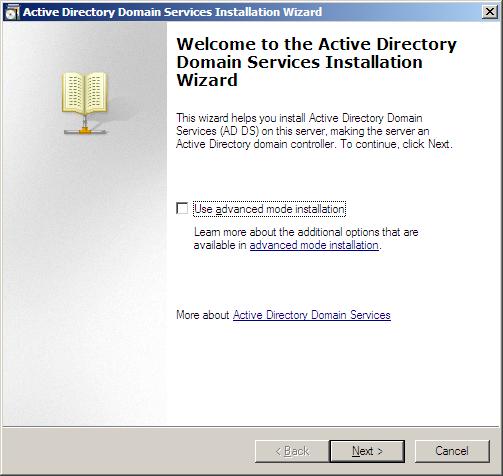 I actually tick the box "use advanced mode installation".
On the Deployment Configuration I choose "Existing Forest" and "Add domain controller to existing domain".
On the Network Credentials page I enter the domain name as NMNETNT and set the Alternate Credentials to NMNETNT\administrator with the admin password used to connect to the NMNETNT domain. I click NEXT.
Then within the SELECT A DOMAIN page I am shown the domain NMNETNT.LOCAL (forest root domain). So far so good.
Now when I click NEXT to continue I receive the following error:
==========================
==========
==========
==========
==========
====
The following error occurred when DNS was queried for the service location (SRV) resource record used to locate an Active Directory Domain Controller (AD DC) for domain "RMNETNT.LOCAL"
The error was: "DNS name does not exist."
(error code 0x0000232B RCODE_NAME_ERROR)
The query was for the SRV record for _ldap._tcp.dc._msdcs.RENET
NT.LOCAL
Common causes of this error include the following:
- The DNS SRV records required to locate a domain controller for the domain are not registered in DNS. These records are registered with a DNS server automatically when a domain controller is added to a domain. They are updated by the domain controller at set intervals. This computer is configured to use DNS servers with following IP addresses:
10.71.104.2
- One or more of the following zones do not include delegation to its child zone:
RMNETNT.LOCAL
LOCAL
. (the root zone)
==========================
==========
==========
==========
=
Also, when I do a nslookup on 2008 machine it returns the following:
> Default Server: unknown
> Address : 10.71.104.2
What am I missing?? I have looked at some other solutions within EE but none work for my situation.
Have I forgotten to do something within DNS on 2003 Server?? I am at a loss and would really appreciate some help.
Thanks in advance.