Hi all,
Really hoping someone can help me with this failing item.  I have a Microsoft Windows 2008 R2 Server running RDHost services.  This allows a select amount of users to login to the network remotely and run a few programs.
Its been working brilliantly.  In fact it does for several users.
However with one user it allows them to login with one of their network laptops but not the other.
The error is 'Remote Desktop can't connect to the remote computer "####.domain.com" for one of these reasons:
1) Your user account is not listed in the RD Gateway's permission list.
2) You might have specified the remote computer in NetBIOS format (for example, computer1), but the RD Gateway is expecting an FQDN or IP address format (for example, computer1.fabrikam.com or 157.60.0.1).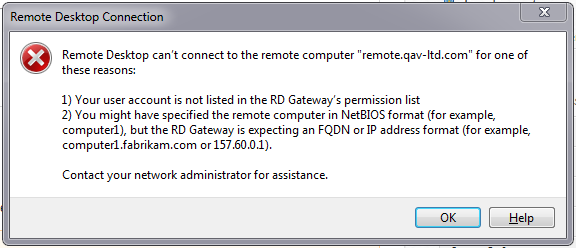 As this works for the user on one of there machines I think it is something machine based.  
Can anyone help?
Regards,
Kerj.