I have planned to order Dell R720 server wit a following spec, we plan to use this for Vmware with 3 Virtual host.
Can someone explain to me with the spec attached
1: How many disks and the size of the disk in this spec's ?
2: +C12-RAID1 + RAID 5 for H710p/H710/H310 ( 2 + 3-14 HDDs - what is this means with this RAID configuration ?
3: It described here two unit of processor, is this enough fo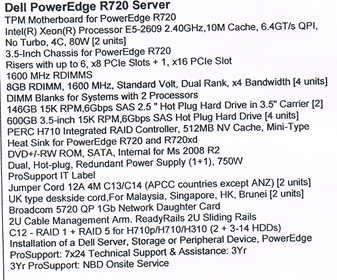 r three virtual host ?