I have created a report that uses columns for an ORG chart report.  I need to display the total number of employees within each column.  How do I incorporated this value so that it is displayed at the bottom of the report and not at the floating bottom of the column.
I also need to include a total of employees, broken down by the type of employee - ie a legend. to also be displayed on the bottom of the report.
Note: I have tried various approaches by including the count (ie.  Count(Empl#) places in the Manager footer - this gave me the floating value depending on the height of the column values.  Then I tried using this field as a hidden field and placing a text field in the Report footer that references that hidden field - but that failed.
Also tried using a subreport but I was unable to get the report to line up with the Manager's column in the main report.
Looking for any suggestions.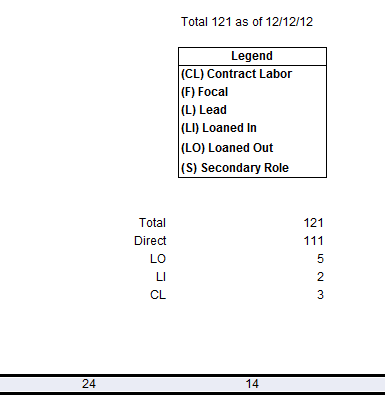 - sample from the original spreadsheet - which I am attempting to create in an Access Report.