I have two date fields in the SemesterCourses table (course start date and course end date). I have another table for translating the date range to a code. This sql statement converts the dates to a string and combines them as needed.
SELECT CONVERT(VARCHAR(10), CrsStartDate, 101)+ '-' + CONVERT(VARCHAR(10), CrsEndDate, 101) as DateRange FROM SemesterCourses WHERE Semester = '13J')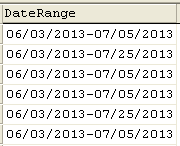 The translation table has these rows.

What I want to do is compare the DateRange string from the SemesterCourses table to the Description field in the TranslationTable and update the field SummerSession in the SemesterCourses table with the Code from the TranslationTable.
Something like
UPDATE SemesterCourses SET s.SummerSession = t.Code
FROM SemesterCourses s, TranslationTable t
WHERE t.Description= ??
Thanks for your help.
Susan