I have a Dell Latitude with a fresh install of Windows 7 Pro x86 with the following specs:
CPU = T2500 (Core Duo) @ 2GHz
RAM = 4GB
HDD = 160GB Intel SSD
There aren't any Windows 7 drivers on the Dell website for this laptop but everything is recognized (know unknown devices in Device Manager).
It has the newest BIOS (A10) and I've looked through all of the BIOS settings but nothing is helping me figure out why the CPU is only running @ 1GHz.
Everything installs incredibly slow and it's driving me insane.
I've installed the Vista chipset driver for this laptop in hopes that would fix it but I don't think it helped.
I'm using CPU-Z to check the speed of the CPU.
It looks like if I reboot the laptop, it'll be running @ 2GHz but out of nowhere it just drops to 1GHz and never returns to 2GHz.
I have the power options in the Control Panel set to "high performance" but that doesn't seem to help.
I really feel like I've tried everything I could think of and could really use some help.
I don't want to put XP on it because of the SSD.  I know this laptop is more than capable of running W7 I just don't understand why the CPU speed keeps dropping to 1/2 what it should be...
For example, I rebooted the laptop and used CPU-Z to check the CPU speed.  It was @2GHz.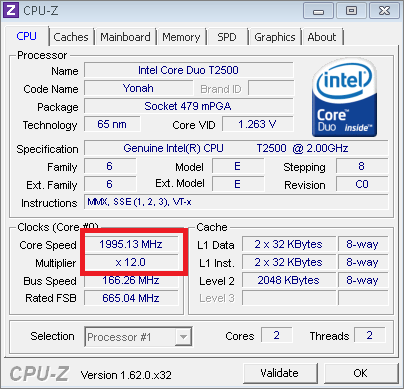 I then started the installation of a program and it dropped down to 1GHz.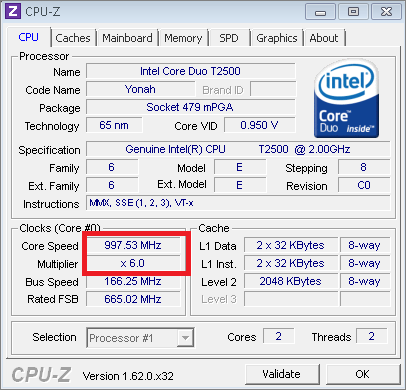 Why would it drop to a LOWER speed when I'm installing software??