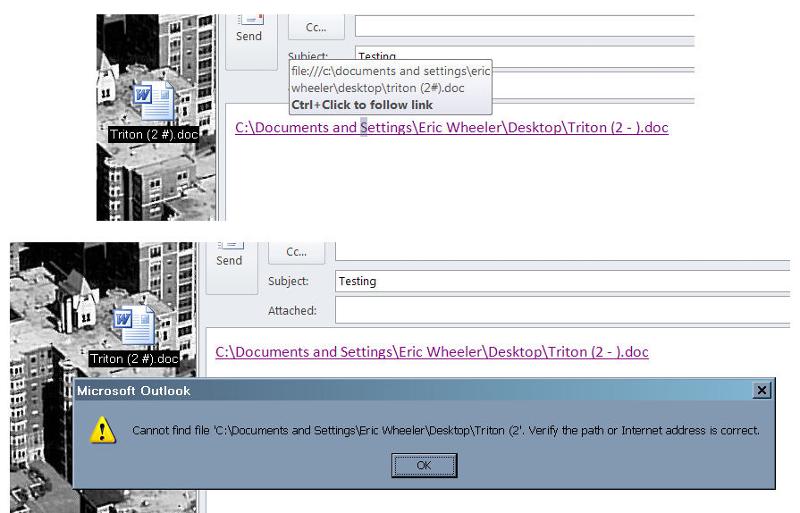 Interesting Problem.
This only occurs on systems running Outlook 2010 and Windows XP. This occurs on users receiving an email containing a local UNC path / shortcut in the email and that file on the UNC path contains a "#" symbol.
example:
Actual file name:
\\server\share\folder\fold
er2\xyzfil
ename # 2013.doc
The email is created using any version of outlook on another computer, they drag the file into the email with the 2nd mouse button using the 'create hyperlink here' feature. It creates the UNC shortcut, but strips the "#" from the visual text, and replace it with a "-" symbol. However, when you mouse over the UNC path it does show the proper path name containing the #. (Yes, testing the path with CTRL + Click after creation causes the same problem)
You send it on to the recipient (who is using XP and Outlook 2010), who also sees the file name missing the # symbol. The recipient can also mouse over the UNC link and see the # in the file name, and the file name looks correct. However, when you attempt to click on it you receive the following error.
"Cannot find file \\server\share\folder\fold
er2\xyzfil
ename"
It strips off anything past the # symbol, in the example above the "# 2013.doc" part.
This behavior is easy to replicate providing you are on Windows XP and Outlook 2010.
I have confirmed this doesn't occur with Windows XP on Outlook 2007 or Windows 7 with Outlook 2010. Only Windows XP with Outlook 2010.
Ideas short of upgrading users? I can remove the "#' symbol from all files.
Screen Shot Info: Showing the file itself on desktop, the short cut it created, and the mouse over info. Image 2 shows the error that pops up if you try to then test the link created using CTRL and click. It would also fail to the receiver providing they too are using Outlook 2010 and XP. If the recipient is on Windows 7 and Office 2010, the received link WILL work.