SQL 2008
(
Getting there slowly team, thank for all the help so far!
)
OK I would like to try and see if over half of my database are actualy being used.
My plan is to put them off line and see if someone shouts. Then when they do ask them what they were doing and then I know what its doing.
But looking I can see I can do a search on the database and look at the modify date.
Example
I have a database "NSMRulestat"
I found a command or Query is that what you SQL guys call it.
USE NSMRulestat
GO
SELECT name, modifydate
FROM sys.objects
GO
It comes back with this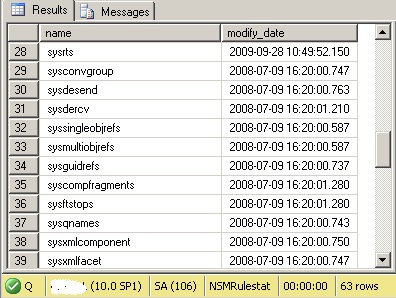 Are these tables within the database?
How would you find out what they are?