Hi everyone!
First of all, I am using Code Gear Delphi 2007 IDE with DevExpress components.
I have a TdxRibbon with a button (TdxBarSubItem).
Button has 3 sub items (TdxBarSubItem), each one has got an item (TdxBarListItem, select, save and delete) and one has got a TdxBarEdit.
Here's a sample: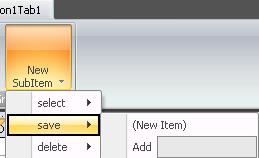 On form show, I add some items to each TdxBarListItem.
- select button allow me to select an item from the list.
- delete button allow me delete an item from the list (all 3 lists)
- save button allow me to save something into an item, if I write something into TdxBarEdit and press enter I insert a new item in all 3 lists.
Adding 2 or 3 items I got error 8, insufficient memory to execute command.
I don't know what I should do to avoid this error.
Thanks to everyone