Network has two 2008 R2 Standard domain controllers. I have a Windows 2003 Terminal server that is encountering an odd issue. When I boot the machine, my group policy applies just fine and proper drives map. However, after a period of time, the unused drive letters populate as "Disconnected Drive" . If I log out and then back in, the disconnected drives then prevent my GPO mapping from working.
DCDIAG shows all tests passed
I have applied the Group Policy Extensions patch to the 2003 server.
Even though the drive maps do not work, I can access the share by the UNC path.
My error logs on the 2003 server are generating a 4098 error (attached as screen shot)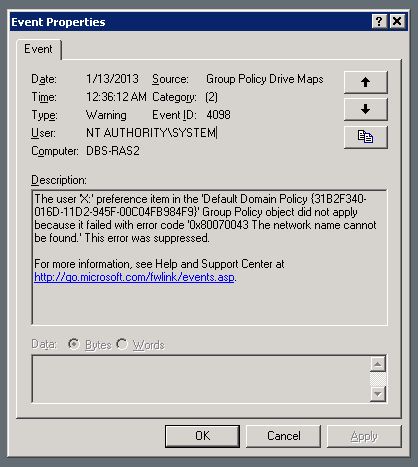 The GPO has only 5 drives to map. I have also attached the screen shot of the many disconnected drives on the system.

Any help would be appreciated.