I'm learning about shape data and shape data linking (for professional use, not as a student) to see if it would allow me to bring my detailed networking diagrams to the next level as well as make me more efficient. I learned about shape data linking and it works pretty awesome. I am able to link to a spreadsheet, display necessary items and also have more shape data that doesn't appear on the diagram as printed. This so far has been great.
Is there a way to use shape data to display another shape?
So take one of my standard shapes that I use. It's a rectangle object inside of another rectangle. I also put the most accurate visio stencil I can get for the model. Would there be a way to cause that stencil of the switch to appear based on the model defined in the shape data?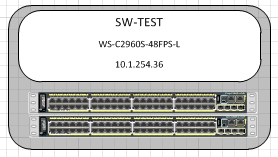 It would be great because as equipment is replaced/upgraded, I could update the spreadsheet, update the visio linking, and automatically have the stencil reflect the correct model switch.