What is the proper way to create a dedicated link between two (or more) high traffic servers and ensure traffic between them travels that link instead of through the public interface?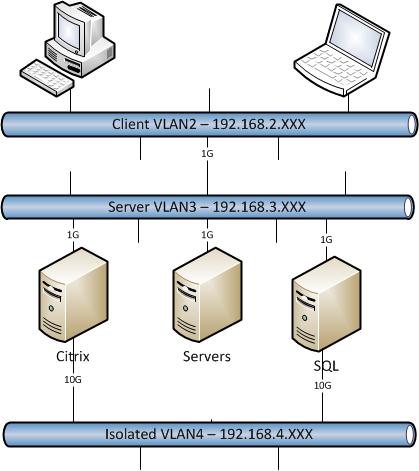 We have Citrix boxes providing ERP Software to clients which is data intensive, to ensure best performance I would like the traffic between the Citrix Boxes and SQL Box only to travel the dedicated 10G link on its own VLAN. Clients should be able to access the VLAN3 interface, and those should be the ones DNS resolves to for Clients/Servers but they wouldn't have direct access to the VLAN4.
I can accomplish it with static IP addresses for the VLAN4 interfaces and modify the local host files on each server connected to that VLAN but I was wondering if there was a better way to accomplish what I am trying to do?