Hello,
We have a Class C of IPv4 public internet addresses and need to subnet them (much like a datacenter does) for various customer servers. The goal is to offer address space and keep everyone segmented for security/reliability reasons (ie we don't want a customer to impersonate another IP and bring down another server outside of their subnet). Pretty common thing to do... or so I thought.
I have been on the search for a Layer 3 software appliance (this is all done on ESX) and have found Vyatta. The good news is that it accepts many of the same commands as a Cisco Router so any Cisco admins are welcome to jump in here.
I am not new to networking, but this is my first time with something as involved as Vyatta (I have been an Untangle user for years). I have been googling for the past 4 days and there is surprisingly little info on how to subnet a class C. So I need help, mostly with the logic of the routing, but specific commands are very welcome as well.
For the purposes of this question I have provided a network diagram of what I want to accomplish, but with only two subnets. if you could help me achieve this I can take it from there.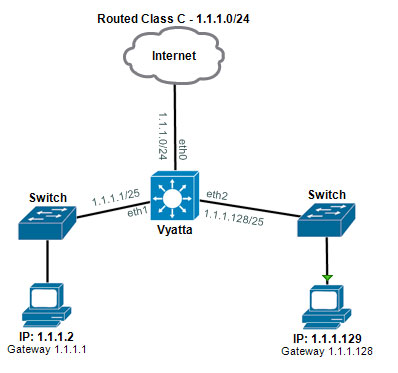 With great thanks!
Richard