Hello,
This question has to do with custom bullet and indent formatting in the Notes section of an MS Outlook Contact. As far as I know, the formatting system there is the same as MS Word so I am including Word as a category zone for this question.
I was successfully able to add a custom bullet (greater than sign) as shown in Fig. A: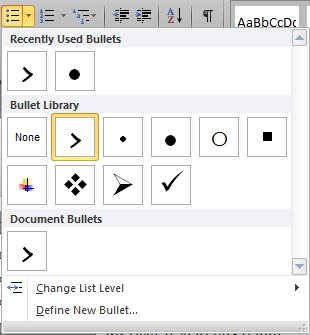 However, I now want to be able to change the size of the space between the bullet and text that follows it. In fact, what I really want to do is change the default setting for this spacing for all bullets both in MS Outlook & Word. (The current default spacing always looks too large to me and seems to waste an inordinate amount of space.)
For example, if in the following rows, row (1) represents normal un-indented text and row (2) represents the current default spacing for rows to which a bulleted indent has been applied then something like row (3) is what I am after (i.e. where the indent spacing preceding the bullet is not changed but the spacing following the bullet is less):
1) normal un-indented text
2) • current default spacing
3) • spacing following the bullet is less
I found that I can change the spacing in given rows of text by first selecting those rows then changing the hanging indent setting in the paragraph box (Fig. 2):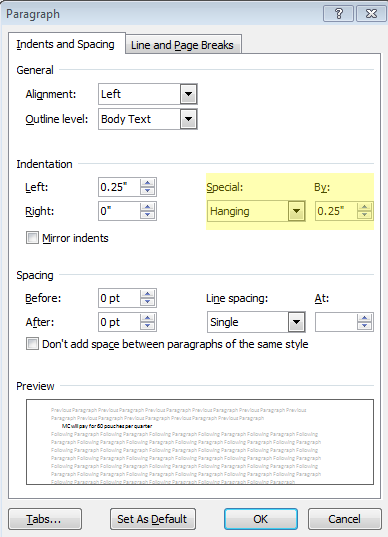 As shown in yellow, the default hanging indent setting is 0.25". Changing it to 0.15" effects the desired adjustment. I realize that one can select all (Ctrl+a) and make the change but that results in all rows being indented. My goal is to only change the rows in which bulleted indents have been applied.
Thanks