I've have some issues with memory on HP desktop, but have had
good help recently from EE
, and things are pretty quiet - no BSOD's.
But watching memory usage is confusing me . . .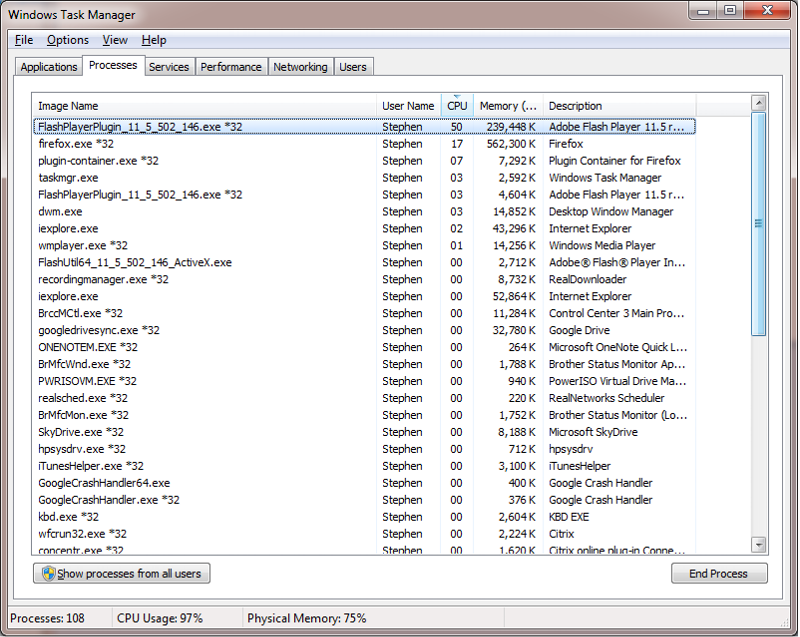 - why is FlashPlayerPlugin_11_5_502
_146.exe *32 killing me ?
- why does TaskMgr say "97% CPU usage", but the processes only added up to 86 ? I guess it's all the processes taking up less than 1% usage, but that just seems odd.
So I recently re-booted, and it's clicking along at 96%, mostly due to the FlashPlayerPlugin, plus firefox.
I've stopped using Chrome because I keep getting "Shockwave has crashed" (and I've fixed that [supposedly] by disabling the Chrome use of Flash [something like that]).
Windows 7 Ultimate, upgraded from Vista Home Premium, SP 2
HP, Model a6600f
Processor Intel Pentium Dual CPU E220 @ 2.2Ghz
4.0 GM RAM
I limit my usage of IE because it seems to be a memory hog as well.
My next step is to buy new memory, that was the general consensus from the EE post linked above. The one thing I did from that post was upgrade my video drivers, which seemed to work to good effect.
So until I get the memory, anything I can do ? Opera also seems to chug along, and I don't think Safari is worth fiddling with.