Hello Experts!
Iam looking for a best practice for moving a VM from A to B and back to A.
My Szenario looks like this:
Im running a Intel Modular Server with integrated storage node.
There a 2 Blades running a ESXi 4.1 each. On each VM there are 2 VMs. The important VMs are: one PDC running on SBS2011 and a SQL server running on a Win2K8R2.
The actual issue is: The Storrage is totaly wrong configured and I would like to reconfigure this. But as long as the VMs running on this storage its a bit difficult ;-)
Then, there is another problem. actualy thats the main reason why I like to renew this Server:
The SBS2011 was saved via some Snapshots before. During this process the storage pool was changed twice. Means, the VMDK is now spread out on several pools: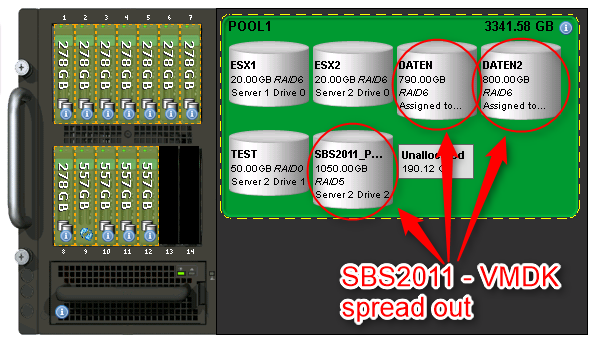 My goal is to move the VM to another host, e.g. a VM-Workstation. Im planing to do this via VMware-Converter. During this process the whole machine will be converted in a single *VMDK (Am I right?).
Later on I can clean my storage pools and renew them to move the VM back to the modular Server.
Does anyone have done this before or knows some other ways to solve this project?
Is there anything I forgot to mention? Pleas let me know if you need more details.
Looking forward to hear from you guys!