In a test setup, I've got a user control on a page. There's a menu on the UC. The menu is set up in code-behind. The menu items fire JavaScript functions. All works fine. Now I want modify a menu item value in JavaScript, basically to toggle from "Show", to "Hide".
As shown in the attached image, ASP.NET turns the menu into a div and ordered list, with the div id = Menu1_Menu2 and the list items not seeming to have id's.
Question: What JS instructions can be used to:
1) get the object representing the menu
2) parse through that object looking for a specific menu item
3) modify that menu item's value
I'm pretty sure I can put the necessary code together if I know the types of instructions above to use.
Any help with this would be appreciated.
Thanks!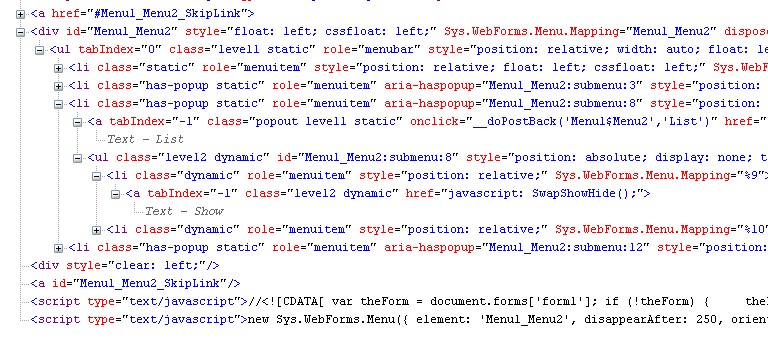 ===========The UC =========
<script type="text/javascript" src="MenuTestzJS.js"></scr
ipt>
<asp:Menu ID="Menu2" runat="server"
Orientation="Horizontal"
DisappearAfter="250"
MaximumDynamicDisplayLevel
s="3"
StaticDisplayLevels="1">
<DataBindings>
<asp:MenuItemBinding DataMember="menuitem" NavigateUrlField="url"
TextField="Text" ValueField="Text" />
<asp:MenuItemBinding DataMember="submenuitem" NavigateUrlField="url"
TextField="Text" ValueField="Text" />
</DataBindings>
</asp:Menu>
========= The XML File =================
<?xml version="1.0" encoding="utf-8" ?>
<Home>
<menuitem Text="Info" url="javascript:alert('inf
o');">Info
</menuitem
>
<menuitem Text="Map" url="">
<submenuitem Text="Show" url="javascript: alert('showmap');"/>
<submenuitem Text="Home" url="javascript: alert('map home');"/>
<submenuitem Text="Map/List" url="javascript: alert('map/list');"/>
</menuitem>
<menuitem Text="List" url="">
<submenuitem Text="Show" id ="List.Show" url="javascript: SwapShowHide();"/>
<submenuitem Text="Home" id="List.Home" url="javascript: alert('list home');"/>
</menuitem>
<menuitem Text="Disc" url="">
<submenuitem Text="Show" url="javascript: alert('show list');"/>
<submenuitem Text="Home" url="javascript: alert('list home');"/>
</menuitem>
</Home>