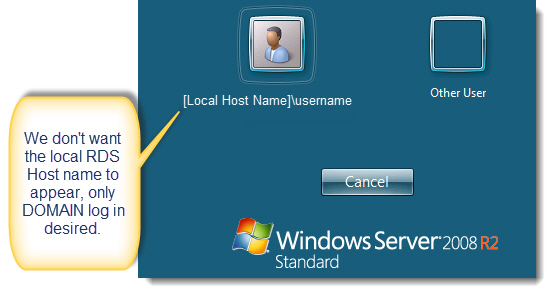 MS Remote Desktop Connection clients, MS Remote Desktop Services 2008 R2.
Objective: We want ALL of our remote users to log directly into their DOMAIN accounts, not any local RDS PC host machine accounts.
Question: Do we really need to train our *remote* users that their Username needs to be the full DOMAIN\Username?
We tried #1: RDC host server's registy: [HKEY_LOCAL_MACHINE\SOFTWA
RE\Microso
ft\Windows
NT\CurrentVersion\Winlogon
] "DefaultDomainName"="DOMAI
N" The remote client RDC program (both 6.1x and 6.2x) does not seem to honor this host registry setting.
We tried #2: The RDC host server's option for RDP-Tcp properties, "Log on Settings", "Always use the following log on info, Domain:". Yeah this works, BUT this FORCES a DOUBLE Login process everytime for the remote users which is very annoying. Would have been nice if this functionality would have allowed in the passed thru credentials for username & pw which it apparently does not.
Question: Is there a way to absolutely force Remote User to domain DOMAIN?
Any comments and hints would be really appreciated!
Thanks,
John