Hello all,
We currently have 2 x netgear GS748TPS switches connected via HDMI (stacked), these were in place before I got here and there are multiple VLANS configured - among them the clients and the servers VLANS and upto now they route to each other via the edge firewall (checkpoint). So all traffic between the VLANS is running up a single cable to the firewall and back down it - not great. We also have no control over the checkpoint firewall (head office controlled) which makes config changes a nightmare.
So we now have a Netgear GSM7328S layer 3 switch to allow routing to occur before the firewall, but the switch will not stack natively with the existing switches and we need a decent level of bandwidth.
So the plan is to link them with 4 links setup in a LAG giving a 4Gbps link.
Here is the issue, the settings for the LAG on the different switches are wildly different, on the layer 2 switch its quite basic with not many options but on the layer 3 switch we have a number of settings to decide on: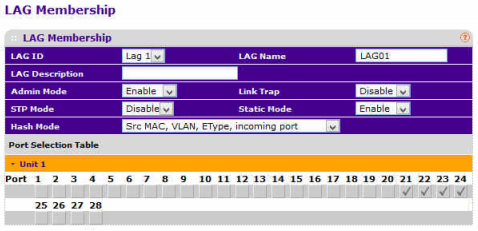 Could someone with more experience help out here, what will be best in order to give us a higher capacity link between the switches?
Oh and all VLANS on both switches match and are tagged on the LAG port (except VLAN1)